Sniffer launches new Becoming Climate Resilient training
From 2023, ECCI residents Sniffer will launch a new short course, Becoming Climate Resilient, designed for organisations and businesses. The course explores climate adaptation, climate risk, and opportunities to build resilience and a fairer, flourishing future.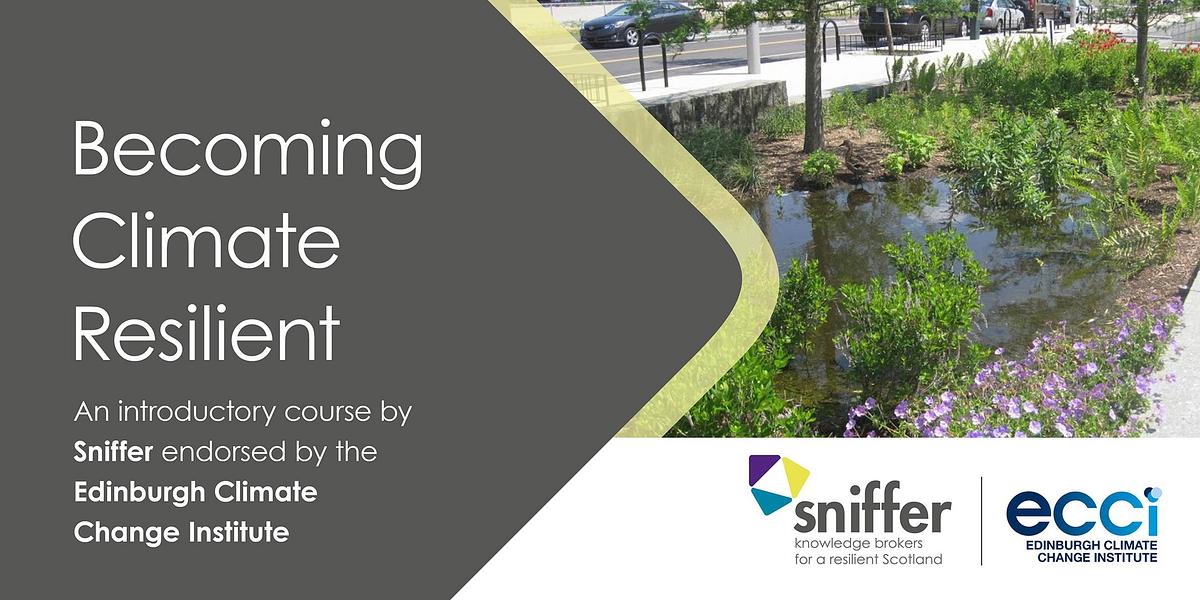 As climate change brings about more frequent and severe disruption across the systems we all rely upon, building resilience is an increasingly urgent priority. Even if we rapidly reduce global greenhouse gas emissions, we are still locked into significant climate impacts. That's why it is important to not only focus on cutting emissions, but also to take actions to adapt to a changing climate.
Sinffer's new, 5-hour course, endorsed by the Edinburgh Climate Change Institute (ECCI), focuses on climate change adaptation and resilience.
Dr Kate Donovan, Co-Director of the Edinburgh Climate Change Institute highlights the importance of understanding climate change adaptation: "Adaptation is critical for a thriving society and this course is fundamental in supporting a vital understanding of climate impacts, adaptation options and pathways to implementation".
Ruth Wolstenholme, Managing Director of Sniffer said: "Our new training offers essential support for practitioners to understand climate risks– both now and in the future – and how to move towards a more climate resilient future"
Training will be delivered online and will consist of presentations, interactive workshops, and group discussion. The course focuses around five learning outcomes:
Understand responses to climate change, and what is meant by adaptation and mitigation
Explore climate trends and projections for Scotland and identify physical climate risks
Understand drivers for adaptation action
Identify opportunities for co-benefits of climate adaptation
Explore case studies of resilience and adaptation in action
Training is aimed at those with some understanding of climate change, however no specific knowledge of climate resilience and adaptation is required.
Becoming Climate Resillient training
Available from Winter 22/23, the first five courses are offered at a discounted introductory rate and available for organisations or individuals.
To book training, visit the link below, or to discuss with the Sniffer team, please contact info@sniffer.org.uk
About Sniffer
Sniffer is a resident organisation of the Edinburgh Climate Change Institute (ECCI). Sniffer acts as a catalyst, fostering collaboration across sectors and places to ensure transformation towards a flourishing and fairer future for all in a changing climate. Sniffer's team work on leading edge climate resilience and adaptation projects across Scotland and internationally, including delivering the Adaptation Scotland Programme on behalf of the Scottish Government.