The COP26 Green Zone Programme is live!
From 1-12 November, the COP26 Green Zone will be open to the public at the Glasgow Science Centre, both in-person and online, with over 200 events.
This is YOUR chance to get involved at COP.
The programme includes the ECCI-supported 'Green Career Pathways' event on Sunday 7 November, chaired by ECCI Director Prof Dave Reay, who is also a member of the UK Government's Green Jobs Taskforce.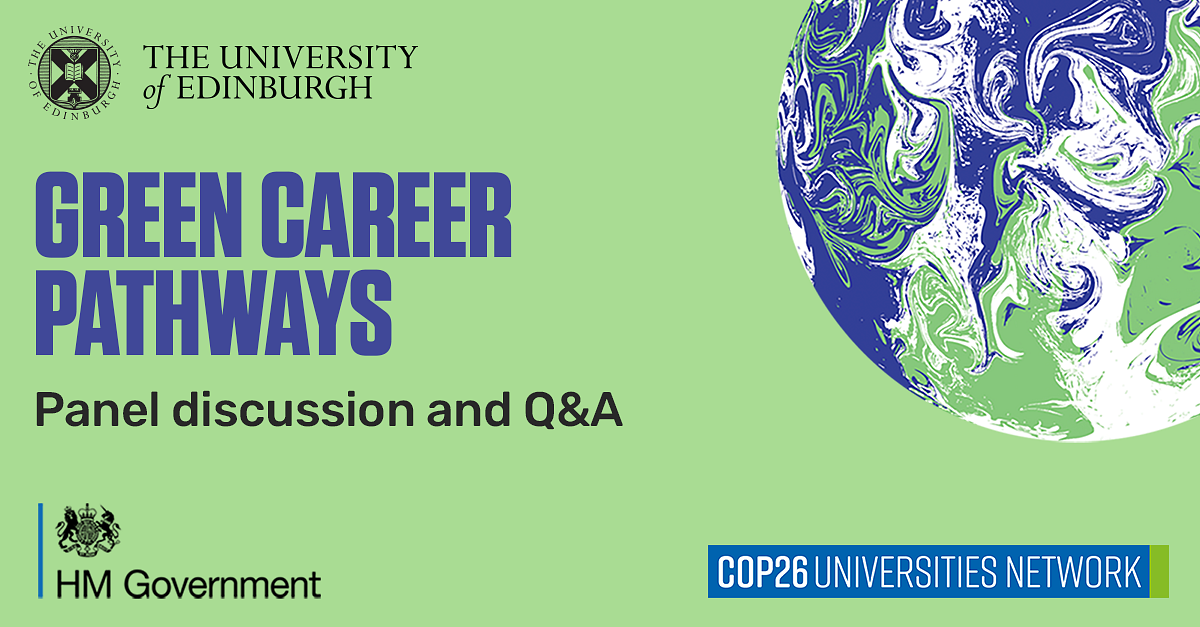 The event examines and debates the roles of education, training and employment in delivering a resilient and equitable transition to net zero and includes two University of Edinburgh alums on the panel: Catherine Barber, Deputy Director, Industrial Energy Transformation, BEIS, UK Government; and Rhona Turnbull, Climate, Environment and Emerging Issues Lead at NatWest Group.
Other ECCI-supported events to look out for are:
'So, you want a Green job?', a Green Jobs Day - DfE Green Skills Event, on Sunday 7 November
The Scottish Youth Film Foundation screening 'Change', on Sunday 7 November
And University of Edinburgh students' voices will also be featured in:
'ActNowFilm – Youth Voices on Climate' screening on Thursday 11 November
ECCI director Prof Dave Reay said: "The University of Edinburgh is proud to play a key role in training, teaching and capacity building for climate action nationally and globally.
"And we're taking a leading role in policy advice on climate education, green skills and jobs through our activities with the UK Gov Green Jobs Taskforce; Education and skills for COP26 Unis network; Climate Emergency Skills Action Plan (CESAP); and the Scottish Government's Implementation Group for the CESAP.
"We now have a real opportunity to simultaneously deliver on our climate goals, supercharge a green recovery, and a realise a fairer and more inclusive future for the whole nation. To do this, our education and skills systems needs to be bang on point, green career pathways must be open for all, and investments need to be matched with local needs and opportunities right across the country."
Get involved at COP
Training, teaching and capacity building for climate action
Find out more about training, teaching and capacity building for climate action at ECCI, including University of Edinburgh Masters programmes - offering expertise from carbon management to environmental sustainability - and the Climate Solutions MOOC.