"We're on a mission to improve life through water"
Novus, with their mission to improve life through water, have set out to make fresh and healthy water accessible all around the world, and reduce reliance on single use plastic bottles.
Backed by entrepreneurs who are recent graduates of the EIT Climate-KIC Accelerator programme, the team were in the building recently to install a water purification demonstration device inside ECCI's central Edinburgh hub.
We grabbed the chance to catch up with Director Duncan Peters (Clean Water Designs, branded Novus) to hear how his original start-up idea has gone from strength to strength.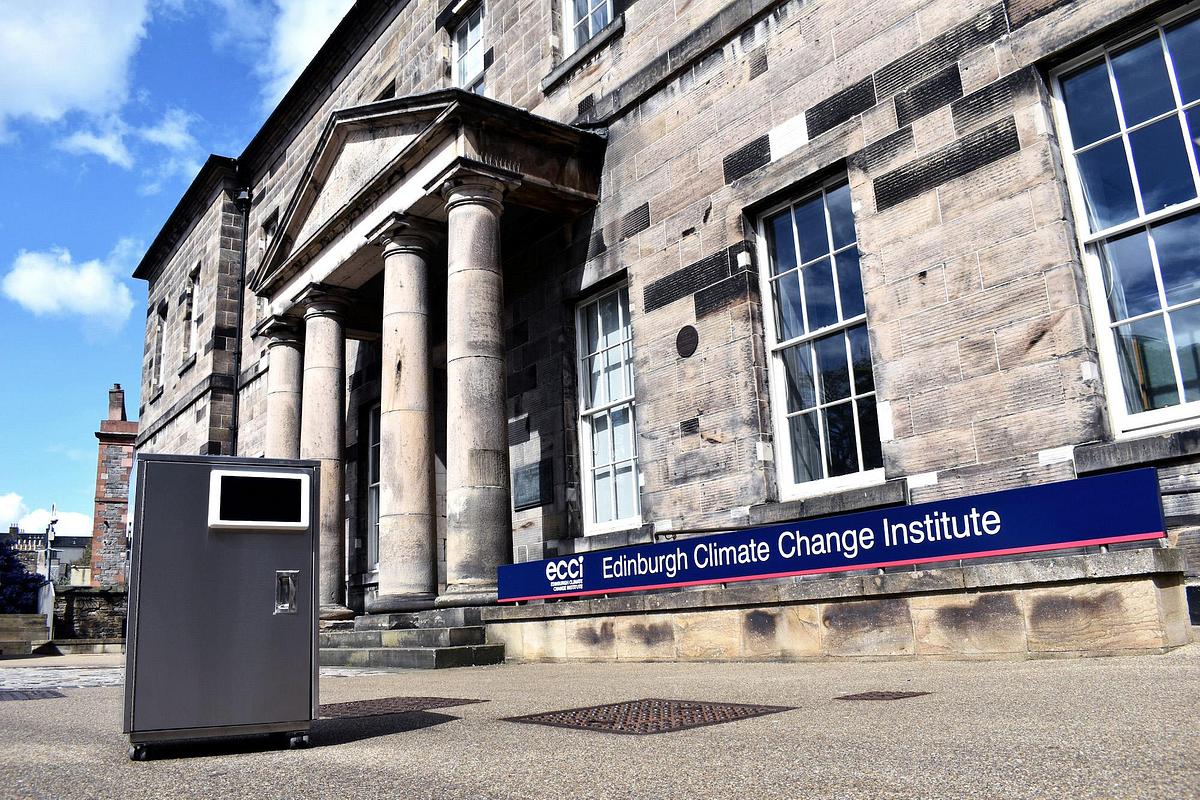 What is your company and product all about, in a nutshell?
Our mission is to improve life through water. We care about the quality of clean water people have, and in reducing the carbon cost of obtaining it, by removing bottles, transport, recycling, high carbon filters etc from the equation, and we want to do this with a single piece of new technology. novusdesigns.com
Was there a lightbulb moment at the start? Describe it
Realising the scale of the problem was a significant lightbulb moment: "52 percent of the world's projected 9.7 billion people will live in water-stressed regions by 2050" MIT.
But less than 1% of the world's water is actually drinkable. We think we've found a technology that can increase that percentage and potentially make a difference to the above prediction.
We think going after the world's biggest problems is the most fulfilling and exciting thing you can do.
What is the initial market you are targeting and sum up the opportunity?
Our initial focus is on making improvements in water quality close to home in off grid communities in the Highlands, Islands and remote parts of Scotland. New regulations from the Scottish Government require the nearly 24,000 properties reliant on Private Water Supplies (PWS) to purify their drinking water for guests, but a study done by Scottish Water found that available market leading point-of-use water purifiers did not fit the standards required for PWS purification. Our technology does, and we aim to provide holiday goers and self caterers an alternative to single use plastic bottled water.
Following a Scottish launch, we plan to launch in the huge US off grid market, and long term we want to address the increasingly growing issue of water purity within towns and cities internationally, and the subsequent reliance on plastic bottled water for pure water in the home.
What role did the support offered to you by ECCI play in your journey?
The funding and support provided by ECCI through the EIT Climate-KIC Accelerator programme has allowed Clean Water Designs to develop a network of mentors and supporters within Scotland and further afield, who have provided us with direction and support as we continue to develop the technology.
Tell us about your background.
I've always loved entrepreneurship. My first company tried to connect like minded co-founders to start companies, but I learned that a purpose driven company also needs a sustainable business model.
My next company focused only on the sustainable business model side, but was missing a real long term meaningful purpose.
With Novus, we focused on making a difference, but with a long term sustainable business model. As a team, we want to build something remarkable that lasts.
What plans do you have for expansion?
Access to sustainable water is a growing problem, and we are thinking long term with a 50 year vision for the company. We are targeting off grid communities first as there is a real local need, and it is a market we know we can make a difference in.
In the future we see huge market potential internationally in the USA, India, China, UAE and others where piped water is not safe and there is still a huge reliance on bottled water.
What's your ultimate goal?
We want to increase the percentage of water available for consumption on the planet and provide a compelling, cost effective alternative to plastic bottled water. If we can do this, we can improve all forms of life through water.
What is your greatest achievement?
Finding amazing talented and passionate people who are building in the same direction and have developed us a strong technology on which we can grow.
Your views on Scotland and Edinburgh's sustainability scene?
Great! Scotland has been a phenomenal place to start our business. The network is incredible and the support from organisations like ECCI, Scottish Enterprise, Zero Waste Scotland, Business Gateway, the Scottish Investment Bank and others has been incredible.
Innovation and SME support at ECCI
Engaging and supporting small businesses is vital to creating a zero carbon economy.
We work with partners who can help us to reach, influence and support the SME community.